This week: A reflection on something personal and reflective. Like COVID-19 or how living with my death is something new
I think a lot about dying. Until recently, I thought of myself as someone who was young for her age and had a lot of energy. But now that we are on month five of an active COVID-19 pandemic, with more than 12 million people in the US infected, I think often about my death. Will it be this year?
Human beings are wired to be optimists, but statistically, with 10,000 cases a day spiking in California, and records setting spikes in cases every damn day, it seems unlikely I won't get COVID-19 at some point this year, no matter how intensely I try to stay home. And if I do, I could become very sick and die. Or get sick and then survive, but with lasting damage, so my life as I knew it is gone.
Living with the fact I could die has been a difficult adjustment. There is intense fear (Nooo!!!!) and questions of how to make the most of this time while I have it. I want everyone in my family to know I love them, and to have all my papers in order, but really, I am still bargaining, like OMG if I stay home enough can I just avoid this?
Back in January, I thought I was on my way to living out a healthy old age, barring cancer, or an accident. I didn't foresee COVID-19 or a country that is purposefully failing at protecting its citizens so the officials can make even more money.
I want to be healthy, I want to be strong, I want to keep working. I want to be alive, I want to spend time with my family and friends.
And that fact that this has all happened to all of us in the United States, with no actual plan, and no real end in sight, makes me so scared and so angry.
I recognize that some of my experiences are exactly what other people have lived, while I have not. Chronic illness, systemic racism, war--create uncertainty, instability, and fear—and many suffer. But because of my privilege--being white, healthy, employed, with resources-- I haven't experienced this before in this way. And yet, I also can't ignore how the fact that our Federal government is deliberately evasive about helping states address the pandemic, is putting us into a health and economic crisis like I have never seen before. One that could cause my death.
Coming to terms with this so hard, but I don't see any other choice.
Quick take: Great reads for the week, only some-pandemic-related
The inspiring read: St. Louis Magazine, The Iron Maidens: Meet the women of St. Louis' Iron Workers Local 396, by Samantha Stevenson, photos by R.J. Hartbeck
The St. Louis union counts more than 1,800 members in the area, but only 45 or so are women. This article and photo-essay are wonderful.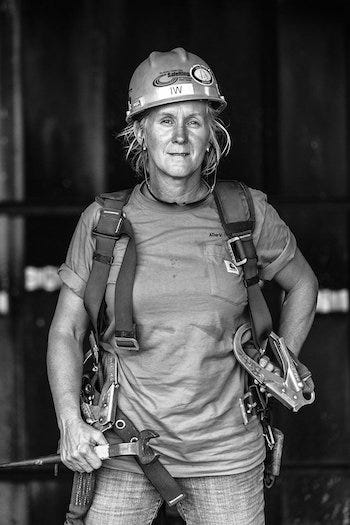 The hilarious chuckle: LA Times, Opinion: A letter on why me having only 724 Twitter followers is an assault on free speech, by Marian Kreutter. An intern nails it with open letters re cancel culture, etc.
"Free speech is me getting to say whatever I want, in whatever outlet I want, with minimal editorial oversight, and compensation of at least 50 cents a word."
The sobering truth: Medium: Where Did My Ambition Go? A drive to succeed has become a drive to just get by, by Maris Kreizman, As business and government have stripped real employment away, we've been left to flounder, and it's not our fault.
"The fallback restaurant gigs and teaching jobs I'd envisioned if I couldn't make a career out of working in media have fallen away. I've pivoted so many times that it feels like I've been walking in circles. I've been watching my industry contract and erode for years now, but the pandemic has killed the possibility of the maybes, the shots in the dark at finding a position in which I can do good work. My personal ambition still roils in my belly, but the path forward is less clear than ever."
A piece of art because we all need that: My July arts crush, Simone Saunders. This amazing fiber artist from Calgary creates art with textile wool, punch needle, and tufting. Like my beloved artist-hero Roberto Lugo, Saunders creates personal and professional messages that have added impact in the medium she uses, fiber art, aka rug hooking.
In a recent interview, the artist said: "I create colorful portraits of Black people who are leaders within their respective disciplines: the arts, music, sports, advocacy. It's important to carry forward their message and have their legacy move through different channels, like my textiles."
A great piece about Saunders here as well.
And now, coronavirus links you may not have seen:
Did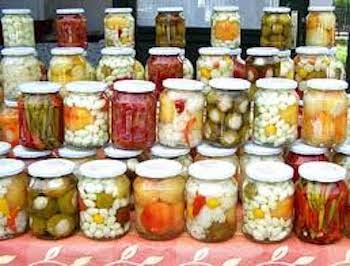 Does eating fermented vegetables (aka probiotics aka gut health) support low COVID-19 mortality? This recent article about a European study suggests that eating a diet rich in probiotics might help increase immunity.
"The study found that in some countries with low mortality rates, the consumption of traditional fermented foods was high. The researchers say that if their hypothesis is confirmed in future studies, COVID-19 will be the first infectious disease epidemic to involve biological mechanisms that are associated with a loss of "nature."
Does being a great writer make for a great Pandemic Interview read? Of course, I hopped right into this Interview Magazine talk with the wonderful Jia Tolentino, by Christopher Bollen, who could not?
"But what are the things that make people panic? A sense of emergency, of unsustainability, of escalating harm and violence, of impending and irrevocable loss. That is definitely the backdrop. The already vast amount of human suffering in this pandemic is about to skyrocket as employment and housing protections are lifted; we're going to see racial and economic inequality reinscribed so painfully with these huge disparities in the pandemic experiences of school-age children. "
Thanks for reading #8. #9 hits next Sunday. Subscribe if you like it. And tell your friends. And if you'd like to guest post, PLEASE let me know!
PS Two more good reads I want to share